Uses a touchless form of temperature measurement as the most effective and safest way to measure the stack temperature.
Offers an 'automatic stack temperature regulation mode' feature whose main advantage is maintaining constant drying conditions independent on the speed of the press which brings the benefit of reaching the required settings immediately after starting a print job.
Achieves precise and quality driven adjustments of drying performance thanks to the 'Digital power control'.
Simplifies operation by using centralized access control from the screen of the printing press. Comfortable and user friendly interface for keeping an eye on the drying process and changing the drying settings.
Includes its own separate air compressor for cooling of the heating panels
See the list of products again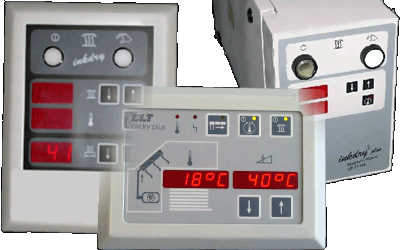 Control Panels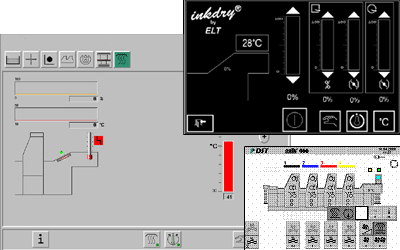 centralized access control from the screen of the printing press
See the list of products again
Advanced and sophisticated diagnostics of the drying system.
Provides safe drying by utilizing activation and safety circuits (compliance with EN 954-1 III standard).
Monitors heat output of the heating panels and based on those readings is able to detect a heat tube malfunction.
Detects power fuse failures.
Detects heating panel cooling failures.
Includes a service diagnostic terminal on the control panel of the dryer and on the screen of the printing press. Both allow setting parameters of drying and monitoring current situation in the drying system.
Improved ability to adjust settings.
Uses a new temperature probe with a higher resistance to the electromagnetic interference.
Achieves most precise level of measuring the temperature of the paper stack.
More sophisticated control of cooling of the heating panels.